Description
Cykyria is an independent virtual reality studio founded in 2014 by Benedikt Engelhard and located in Germany. We are focused on branded virtual reality entertainment and games for home, events, trade fairs and VR arcades.
History
VR in the business
Cykyria our name and brand – built from the ancient Greek terms Kybernetica and Kyria – translates to "Ruler of the Cyberworlds". We are focused on Virtual Reality since day 1. We've created several branded VR entertainment projects for trade fairs for business customers and games for usage with treadmills or simulators. We also did rental of VR equipment for trade shows and events. We made our first custom VR marketing experience in Germany with Oculus DK2 in 2015. Virtual Reality is an experience machine and therefore ideal for new forms of customer contact. Away with dusty brochures. Instead, customers should be able to try out, experience and internalize the products and their benefits virtually before they buy. Through gamification the interest in the product can be further increased.
VR in the game
Our first game VR Shooter Guns (2017) was made especially for Arcade usage with the treadmill Cyberith Virtualizer and roomscale play. We use the Virtual Reality technology of Unreal Engine 4. Thus Cykyria's founder Benedikt Engelhard supplemented an extensive chapter on Virtual Reality in the 2nd edition of the only German book for Games Developement with Unreal Engine from Hanser Verlag. We host the "Unreal Meetup Franken" for Unreal developers as a possibility for network and further training. Due to the cooperation with the Nuremberg gaming collective "Project HIVE" VR gaming grows together with eSports – a unique, trend-setting project. With our game Quest for Runia (2021) we realized an unique adaption of well-known mobile puzzle games like Candy Crush and Bubbleshooters in VR. October 2021 we announced our latest project, the VR game Sanity City - with full body avatar multiplayer raids in a cyber punk themed world.
VR in the future
Virtual reality will change our lives and we will make it real. There is much more to come. Let's reinvent reality!
Projects
---
Videos
Sanity City - Full-Body-Avatar YouTube
Quest for Runia Trailer YouTube
---
Images
There are far more images available for Cykyria, but these are the ones we felt would be most useful to you. If you have specific requests, please do contact us!
---
Logo & Icon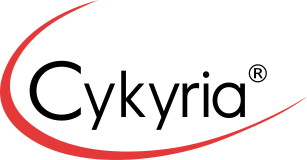 ---
Awards & Recognition
---
Additional Links
Cykyria German Website
This is our German website for individual entertainment business projects. You can check it out at https://www.cykyria.de/.
---
Team & Repeating Collaborator
Benedikt Engelhard
Founder
Doris Conrad
Co-Founder
---
presskit() by Rami Ismail (Vlambeer) - also thanks to these fine folks