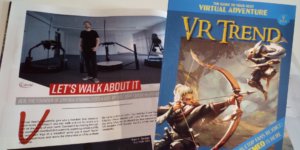 Let's walk about it
Ben, founder and owner of Cykyria, is in the latest issue of VR Trend Magazine with his article about his VR Treadmill comparison video.
The article provides a brief overview of the video with the technical comparison of the most popular VR Treadmills: KAT VR Mini, Cyberith Virtualizer Elite 2 and Virtuix Omni.
Topics include the walking concept of each device and a walking analysis.
The devices have very different approaches to the basic "problem" they are trying to solve: natural walking in virtual reality.
In addition, the video shows impressions of user-friendliness, safety and noise. Especially the latter is important – because without closed headphones, the loud sounds of one's footsteps in VR can be very distracting.
Watch the technical analysis on Cykyria's youtube channel:
VR Treadmills Review: Comparing KAT Walk Mini vs. Cyberith Virtualizer Elite 2 vs. Virtuix Omni