Sanity City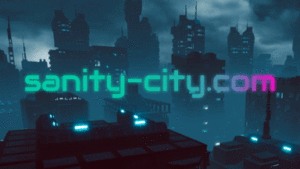 Sanity City is the Utopian experiment amidst a world of chaos, a shimmering sign of hope for mankind.
During the "troubled twenties", a decade of global disorder, this ever growing giga-metropolis was designated as a neutral, supranational zone by the remaining nations of the world.
Governed by a highly advanced AI, this is a place where all people are equal. A place for all people to prosper. And a safe harbor for every sane person fleeing from madness, war and disaster. It is a place where all your past sins are forgiven…
So they say.
More about Sanity City on the official website
Quest for Runia

Quest for Runia is a relaxing, seated and one-handed VR game.
You have to dissolve 3D structures by combining at least three cubes of the same color.
Try to figure out the most effective way to finish each of the 165 level.
VR Shooter Guns

Adrenalin rushing, fast-paced roomscale VR game - a SciFi shooter for HTC Vive, Oculus Rift and Windows Mixed Reality.
VR Shooter Guns is about bare survival in a sci-fi environment.
Skill, speed and tactics are required.
You'll get so sweaty that you can skip the gym afterwards.
Check it out on Steam or visit the Official Website
Branded VR Racing
"Branded VR Racing" is the customizable virtual reality game from Cykyria. We exclusively equip the race track with your logo on banners and flags. It's only available together with our rentable racing simulator.
It is the visitor magnet for trade fairs, events, company celebrations and everywhere where VR racig drivers of tomorrow are waiting. So that you can identify and reward the best racers, we have built in a high score display for you.
The racing game is played on our Virtual Reality Racing module and needs little space for a big effect. Thanks to its intuitive operation, it pleases young and old racing drivers alike.
When do you drive on your own VR race track?
More information on our German Website