Description
Cykyria is an independent virtual reality studio founded in 2014 by Benedikt Engelhard and located in Nuremberg, Germany. We are focused on virtual reality entertainment at home and out-of-home such as rental and VR arcades. Our games are built from ground up for VR and embrace the arcade style of gaming. Our goal is to make really awesome games which are challenging the player to master their skills and top their own highscore again and again. Virtual reality will change our lives and we will make it real. We are ready – are you too? Please visit www.cykyria.de for more information.
History
Early history
We are focused on Virtual Reality since day 1. We've created several VR projects for business clients, and have developed VR games for useage in Arcades, e.g. VR Shooter Guns. We also do rental of VR equipment for trade shows and any kind of event.
Future
We have some pretty cool stuff we're working on right now. If you want to get information about our upcoming projects, tell us you want to get on our press mailing list: press@cykyria.com
Projects
---
Videos
VR Shooter Guns - Roomscale Trailer YouTube
VR Shooter Guns - Cyberith Virtualizer Gameplay YouTube
---
Images
There are far more images available for Cykyria, but these are the ones we felt would be most useful to you. If you have specific requests, please do contact us!
---
Logo & Icon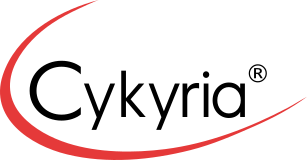 ---
Awards & Recognition
---
Selected Articles
""Excellent VR party game that offers a large amount of adrenaline. After your run take a cold drink and watch your friends play. Suitable for absolutely everybody. One of the best VR games that are currently available." 8.5/10 points "
- VideoGamers, Website
""Excellent little shooter that scratches that "I just want to shoot♥♥♥♥♥♥and not think too much" VR itch that I had not found in VR so far. This game is on my good list of VR games which is pretty short. I just can't get over how this game surprised me." ♥♥♥♥♥♥"
- @Dicky Rambo, Website
---
Additional Links
Cykyria - News
This is our news feed in German about all our activities. Check it out at cykyria.de.
Cykyria - VR Shooter Guns
VR Shooter Guns official website. Look here at https://vrsg.cykyria.com/.
Cykyria - Rentals
This is our main website in German for rentals and business projects. You can check it out at https://www.cykyria.de/.
---
Team & Repeating Collaborator
Benedikt Engelhard
Founder, Head of Development
Doris Conrad
Co-Founder, Business and Marketing
Manuel Ermer
Lead Developer
Contact
---
presskit() by Rami Ismail (Vlambeer) - also thanks to these fine folks